I totally forgot I had this experience and these pictures in my files... rewinding a bit to early December 2010 when I first went to the Sidcor Weekend Market, now located in Centris. I normally visit the one located at the grounds of Lung Center of the Philippines, but through our neighbor Ria, I learned that it was transferred to Centris - Quezon Ave. cor EDSA in Quezon City.
Through her invitation, we went there with my cousin Mhai, and we did take a look at the many things for sale (you can buy housewares, clothes, bags, shoes, garden materials including plants and tree seedlings, and pets), but half of our trip there was for the food trip, so it was the last area we visited. Here are some of the pictures I took, using my cell phone as I don't have a camera yet that time (my old one died at a recent vacation):
Entrance
. The food area is just as big as the apparel / housewares area, and the first thing people will see were stalls selling fruits, vegetables, and regional foods. Each stall had their own prices, so if you come here, be prepared to walk and ask around because some stall would have their goods at a lower price. Some stalls also sell organic fruits and veggies, although their prices would be a little more expensive than the others.
Fern
. I remember when I was still a kid, dad would buy a bunch of this and make a salad. I don't remember how this tasted now, and although I didn't buy some (because we will be out in the sun for the whole day and it might wilt), just knowing I can buy this here was already a blessing.
Bottled Foods
. The Spanish Sardines is already something everybody can buy at the local grocery, but seeing bottled pitaw and bacalao (the ingredients list stated barracuda fish... was there a difference?) was something new for me. Well, I would love to give it a taste, but I seriously couldn't have the courage the buy a bottle each just to know how it tasted.
Lechon Kawali
. They allow people to have a free taste, but I'd rather not because I am afraid. Hahahaha.
Nuts and Dried Fruits
. The newbie baker's fantasy come true, in my opinion. Well, the packages were small enough to handle small baking needs, and if only we had an oven, I so would love to try my hands at baking, too. Well of course, it's not just for baking.
Pastries
. Now, if you're not into baking and would rather buy baked goods instead, they also have it here. Some stalls would sell bars, some would sell cakes... there are just so many pastries to choose from. Some stall also sells different kinds of breads, and we hit a jackpot there when we found a stall selling foccacia bread the size of a table placemat (and about 2 inch thick) for only p60. We saw other seller selling the same kind of bread for p50, but it was just 1/3 the size of what we bought.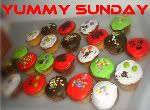 Drinks
. Most food stalls offer free taste (they have lots of small plastic spoons to avoid saliva contamination), so if all those free food tripping made your throat dry, there are some stalls selling drinks, too. Well, most offer the regular bottled water, bottled / canned soft drinks and juices, but one that really caught our interest were these drinks. Citrus Malunggay and Pineapple Cucumber anyone? Well, Ria and I decided to buy a serving each, and I chose the Citrus Malunggay and it was really refreshing. They added finely chopped fresh malunggay (moringa) leaves into the drink, and I loved that not only did it quenched my thirst, I also had an intake of fiber. I got to taste Ria's Pineapple Cucumber, and although it was good, I found the drink thick and a little heavy (well my drink was like drinking water) for my liking. Before we left the weekend market, we bought a cup each of the Citrus Malunggay again. We just loved it.
I wasn't able to get much details about each products because the sellers were busy talking to other customers and that at times I was a bit hesitant in asking especially if I won't buy it. Some of the pictures were taken in haste, too, so apologies if the pictures weren't that good.
We traveled back there the next week, and pictures taken from that trip will be shared next week.
*** Jenn ***