Like what I have said last week, part of my second Sidcor Weekend Market experience was buying different regional longganisa, and checking my files, I found two more pictures, so I decided to make a separate post.
Longganisa is how we call the sausage here in the Philippines. It seems as if every region in the country have their own version of this food, that even if the main ingredients were ground meat and spices, it was really interesting to know that each vary in taste. Some of the regional longganisa I have seen were:
Malolos Longganisa
. Very garlicky, but very meaty as well. Normally, I pair my longganisa with spiced vinegar with lots of minced garlic, but when I cooked this and tasted that it was very garlicky, I decided to just cut up some tomatoes instead. The tomatoes mellowed down the strong garlic flavor...but this is one good longganisa, but sadly my mom didn't like this. A pack of this was around p125.
Lucban Longganisa
. My favorite kind of longganisa, though I admit this can be a little fatty. I don't know why it's pink... but part of me liking this was its color. As for the taste, personally, I think it has a good balance of spices. I am actually now excited for my Lucban trip next month (for the Pahiyas Festival), because I want to take home lots of this! Hahaha. There are two sizes to choose from, the bigger ones (like the ones in the picture) cost p125 per dozen, the smaller ones were p95 per dozen.
Cabanatuan Longganisa
. I was a bit hesitant in buying this because it was my first time to see such, but the vendor practically swore that this would taste really good, so I bought a pack. Quite expensive for p145 per pack, but yes, it was really delicious, and had lesser fat compared to the others I have tasted. If only it wasn't too expensive...
Baguio Longganisa
. This was taken during a trip to Baguio City with my sister last March. We were walking along Session Road because they closed the entire road to make way for different stalls selling all sorts of stuff coming from all over the Philippines. It was pretty interesting to see two food stalls flocked with people, and when we checked what the fuss was about, it was because of this. They were selling this for p50/dozen, and you might think that was really cheap, but you have to know, too, that these were quite small. Well, my sister and I were very full that time so even if we wanted to buy some just to taste it, we just couldn't. I hope I can taste this next time I travel there.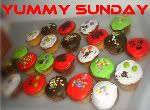 Vigan Longganisa
. Probably one of the well known regional longganisa, I love this because it's garlicky and has a little sour taste to go with it, too. This picture I took from the Vigan Market last March, and my sister and I wanted to buy this, but we were worried about the smell it would give inside the bus, so we just took a picture. This is also sold by the dozen, but I forgot just how much it was exactly.
People have their own way of cooking longganisa - some fry them directly, but here in our house, what we do is put some water in the pot and let it evaporate until it render oil. We then cook it further by frying it in its own oil.
As for the condiments, I either eat this with (like I said) spiced vinegar with minced garlic, and sometimes I eat this with chopped tomatoes mixed with chopped onions and some kalamansi juice and some bagoong balayan (fermented fish paste).
I still am in the search for more regional longganisa, so maybe in the future I can make another post again. Actually, I know I have taken pictures of longganisa I have eaten in Banaue, Tagaytay, and Puerto Galera, as well as the longganisa my Uncle Caesar took home from Ilocos Norte, but the first three I wasn't sure if it was really their own regional longganisa, and I couldn't find the one from Ilocos Norte, so as soon as I have enough to make a batch, I will write about it.
Currently, my brother is in Cagayan de Oro... I have already tasted their version (when brother took home some last time), but I wasn't able to take a picture of it, so I hope she would take home some again. So, what's your favorite Pinoy Longganisa?