Max's Restaurant
Greenbelt 1, Makati City
07 March 2011
While in La Union, I received a message from Max's Restaurant about a Fish Fest bloggers night. I so loved the first bloggers event by Max's, so I quickly replied "yes" without really checking about the date. I then realized that sister and I will be traveling from Vigan night time of 06 March, meaning we will be home morning of 07 March. The event was scheduled at 6PM, and when I realized it, I asked myself if I can manage. Sister said yes, so okay. :)
We got home from Vigan around 7AM, and since I was able to sleep good while traveling, I didn't feel tired or something. I asked Kim if it's okay if I would tag my brother along, for he is a food blogger, too, and she said it would be awesome if I do. Brother did pick us up at the bus terminal, so I was happy that he was still eager to come with me. I do love Makati City, but I often get lost there so I really needed my brother. :)
We got there on time, and after some chit chats, foods were served:
Sweet and Sour Fish
. The breading was crunchy, the fish was well seasoned and the sauce had a good balance. The bell peppers were crunchy, too, so I really liked it. :)
Boneless Bangus
. At first, I didn't like that there was some breading, but when I tasted it, it was just so awesome. The marinade was just nice that we didn't have to dip it in the vinegar provided. It was already delicious as is.
Sinigang na Hipon
. This was served in traditional palayok, but it was difficult to take a picture of it as steam was making my lens hazy, so I just scooped out some in my bowl. The shrimp was cooked okay, the broth tasted like they used the sinigang mix, and it was a little sour for me.
Max's Fried Chicken
. It was "Fish Fest," but they still served us the fried chicken, because it wasn't lent yet. :) I took the leg/thigh quarter... and I loved eating it, I seriously didn't mind having just bones in my plate. :)
Frozen Fruit Salad
. One of the well known desserts served in Max's... it was really frozen, so the best way to enjoy it is to let it rest a little, allowing it to thaw a bit. It tasted like regular fruit salads we serve at home.
The event, like I said, was about the Fish Fest - what Max's Restaurant will offer this season of Lent. Currently, they have the
Seafoods Selections Promo
, and starting tomorrow, 18 March, they will be having the
"Max's Summer Meal,"
a good for four meal set consisting of: 1 Pancit Canton; 1 regular whole fried chicken; a bottle of Pepsi (1.5 liters); 4 cups of rice and; 1 Giant Halo-halo, for only p999. Promo will last until the end of May.
We also had some games that night... when we arrived, there were three tables, and each table determines the teams. The first game was a puzzle game, where we were given cut out pictures of a dish part of the Seafoods Selection, but I wasn't able to take a picture of it because we were all part of the game, sticking pieces on the wall.
Trivia Game
. The next round of games were about Max's Restaurant trivia. It was mostly hit and miss for us, but we did get a point. Hahahaha.
Pricing Game.
Last game played was their version of "the Price is Right," where a team member sticks price tags into the dishes. Whoever gets the most points win.
It was a race to 6 points, and Team B won the game. Each of them got a GC for "Chicken All You Can." We lost, yes, but we did have consolation prizes - a GC for 1 whole Max's Chicken. It was sad to lose, but it was okay... because the GC we got may be just for 1 whole chicken, but at least we can share it and we can opt to take it home. The "Chicken All You Can" was meant for the GC holder to consume (no sharing allowed). :)
Book Winners
. Before calling it a night, they brought out 5 coffee table books entitled "The House That Fried Chicken Built." It was Max's Restaurant own coffee table book, and it was just so special because it wasn't released in the market yet, and each book were signed by the current owners of the company. They raffled off the books, and we were so lucky because brother won! First time luck, I guess, as this was his first bloggers event.
We also took home a goodie pack with polvoron and caramel bars... sweet! It might be raining when we left the restaurant, but it was all alright, as we certainly enjoyed the event. Massive thank you, Max's Restaurant!
*** Jenn ***
ps - thought I'd share this picture, too: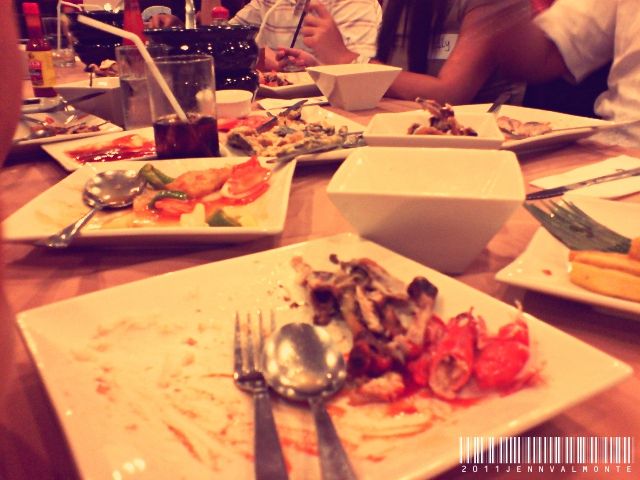 The Aftermath
. A proof that Max's Restaurant foods are really, really delicious!