I love to eat foreign cuisine, but I always find myself wanting to eat Filipino food. I believe there is just nothing like it, and the comfort it brings doesn't just fill the tummy, it feeds the senses, too.
If you're someone who just love Filipino food, there's another restaurant to try - Siklab Filipino Favorites, located at the third level of Greenbelt 3.
"Siklab," which literally means "to catch fire" or "burst into flames," serves dishes that are in their best hot-off-the-grill goodness. Guests can also look forward to nothing less than an explosion of flavors even in the most simple of dishes.
"At Siklab, the story doesn't end with serving all-Filipino dishes but we present these dishes creatively, the Bistro way," Chef Josh Boutwood says. "Both usual favorites and some unique Filipino dishes will be served with interesting twists. The taste, however, is still traditionally Filipino — but richer and more flavorful," he further hints.
The restaurant's interiors are accented with wooden planks and black droplights that lend a laidback, almost rustic vibe to the place. But it's this homey and inviting ambiance that heightens the dining experience at Siklab, creating just the right kind of setting for a satisfying meal.
Dishes to try at Siklab Filipino Favorites?
Salads that are prepared with fresh ingredients that are truly Filipino: salted eggs, green mangoes, pako, kesong puti and grated coconut. They also serve leafy malunggay and kangkong as well as other vegetables that make up dishes like Pakbet and Monggo Soup.
For appetizer, Kuhol Sa Gata (local escargot drenched in coconut cream and spicy ingredients) is a winner.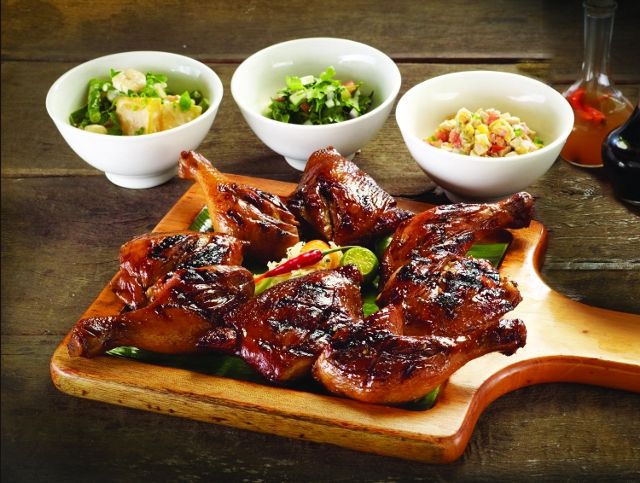 Chicken Barbecue
Chicken pieces are smothered in Siklab's marinade made of coconut soy sauce, citrus and other spices and the meat is grilled to exact temperature and tenderness. The smokey aroma and intense flavor of the chicken plus its juiciness and succulence, bite after bite, will delight even the most discerning palate.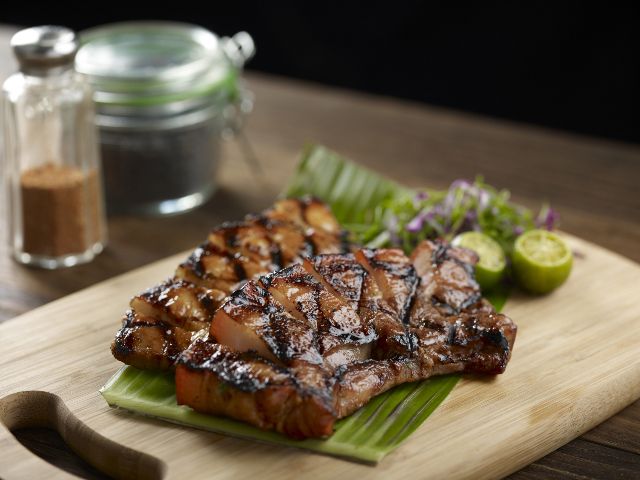 Barbequed Liempo
A slab of perfectly grilled juicy pork belly best eaten with piping hot steamed rice and condiments on the side, is a crowd favorite.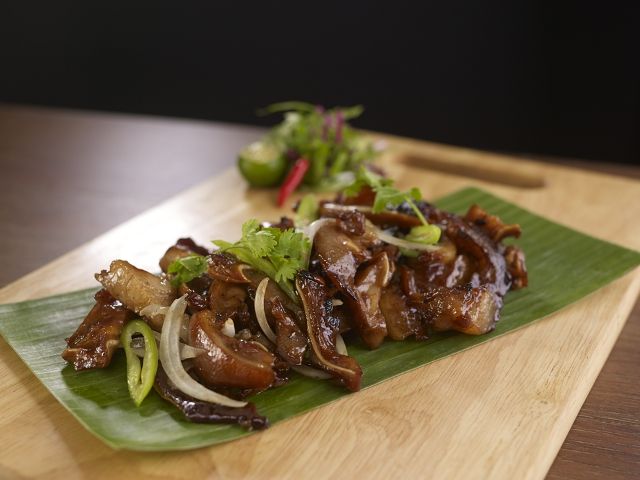 The adventurous eater may order Grilled Pig's Ears, a not-your-usual grilled fare but equally tasty and enjoyable.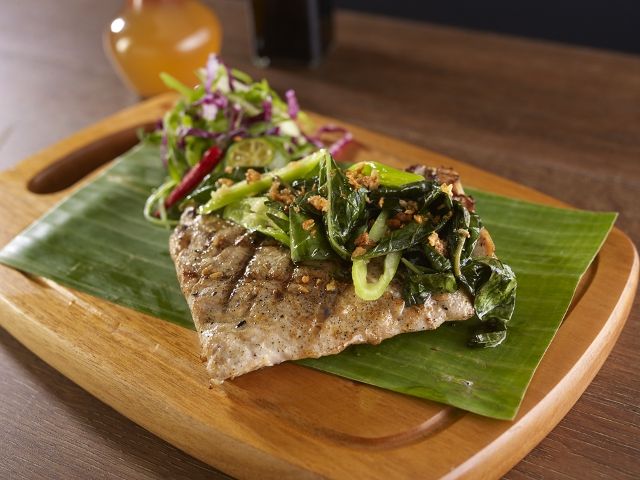 A healthier alternative is the Tuna Belly, a juicy and tender chunk of tuna sprinkled with chilis and garlic.
For desserts you may opt for...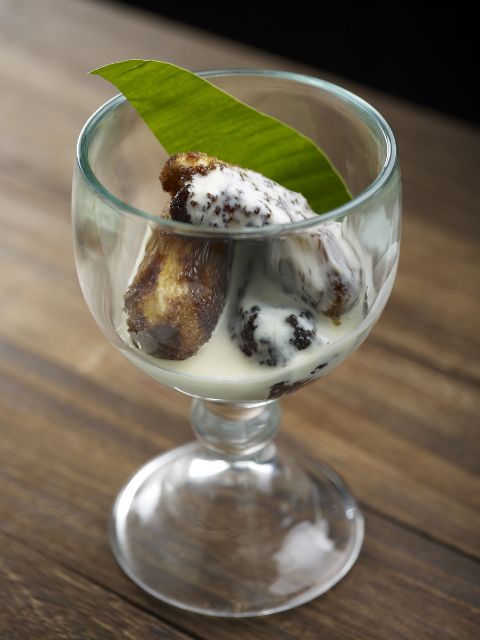 Minatamis na Saging (Caramelized Bananas)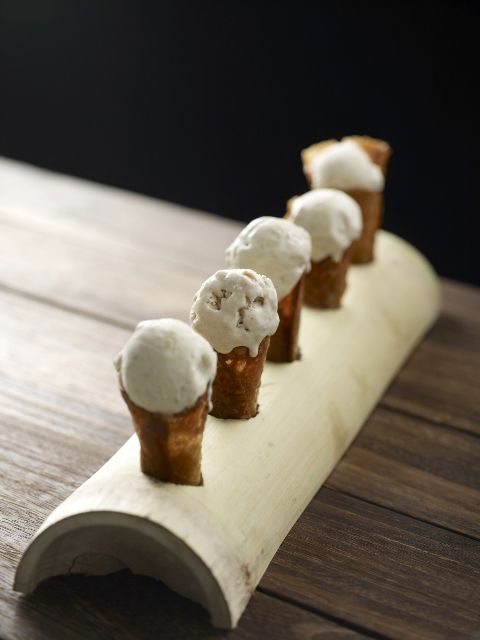 Turon 2.0
Bananas that becomes fancier as it comes adorned with homemade sugar snap cones and topped with banana ice cream with banana compote.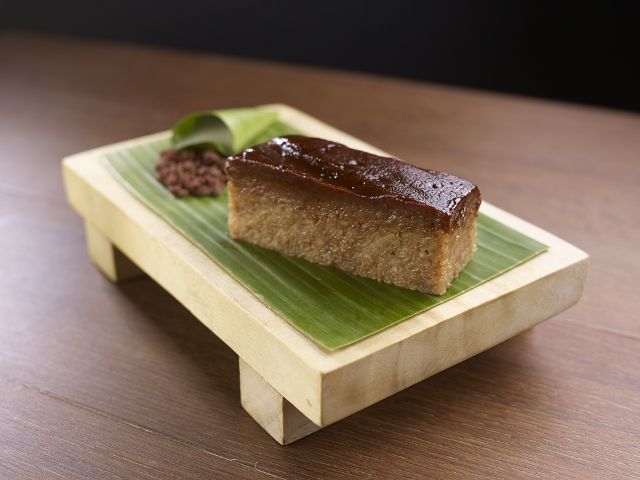 And the classic Filipino native delicacy - the Biko.
These are just the few of the many more dishes to try at Siklab Filipino Favorites. Whether you're the type who loves grilled food or soupy Pinoy dishes, there's something for everyone at this restaurant.
As part of Bistro Group's portfolio of restaurant concepts, Siklab carries the same brand of customer service, great food and friendly ambiance that the chain is known and loved for. In the local food scene, Siklab distinguishes itself as a blazing new venue where families, friends, expats, urban professionals and balikbayans can enjoy an authentic Pinoy dining experience – proof that Filipino dishes are definitely worth dining for.
For more information and reservations, please call 729-7431 and 32. Also, you may also follow them on Facebook.
Big thanks to the Bistro Group for providing the images and its descriptions.