Lately, I haven't posted that much on my Instagram page, especially the food ones because at home we don't prepare a wide range of dishes and we don't get to dine out often, too... but these were the food pictures for the last two, three weeks ago.
Oatmeal and Egg
The past week prior to this breakfast, us three girls have been eating fried food each and every day and I experienced discomfort after mom's birthday. I told the girls that we won't eat fried food for that week, so mom boiled eggs for breakfast and cooked oatmeal for us to share. Oatmeal is not my choice of breakfast food as I would experience tummy ache, but because mom cooked one medium pot of oatmeal, I just had to eat at least a bowl of it. I mixed oatmeal and eggs, and even if the oats were cooked in just water, the combination tasted okay for me. Mom and sis ate their eggs separately because they added milk and sugar in their oatmeal.
Scallops and Veggies
Mom knew how expensive scallops are at the Chinese Restaurant, so when she saw a vendor selling scallops for only 50 pesos per half kilo, she immediately bought some and cooked it adobo style. I, on the other hand, chopped some veggies and steamed it then seasoned with light butter to pair with the seafood. Yummy dinner!
Maltesers Chocolate Creations at Krispy Kreme
We had a late lunch at Chowking and shared a large tub of cheese popcorn while watching OTJ, and because we were still full after the movie, we decided to eat desserts for dinner instead. We already tasted J.Co Donuts, it's now time for us to try Krispy Kreme. We shared 4 of their products, including this new product. I still love J.Co Donuts, but this one was great, too.
Ginataang Langka
Ria's father once shared this dish as their family's potluck contribution and my sister loved it tremendously! Since then, whenever they would cook this dish, they would always give us a small bowl of it, and we ate it for lunch the next day. We loved this dish because they used canned spicy sardines instead of pork.
PB&O
I follow quite a lot of fitspo people on Instagram, and peanut butter has been a favorite for these people. One person shared a picture of a bowl of oatmeal and peanut butter, so I tried it for breakfast. Mom cooked this one with milk, which made the peanut butter tasted creamier.
Ube Piaya
While waiting for our flight back to Manila from Kalibo, sister saw a kiosk that sells Bong-Bong's products and sister bought quite a lot of their Ube Piaya to give to her friends. She left two packs for us at home and today we just ate it for snacks. Namit!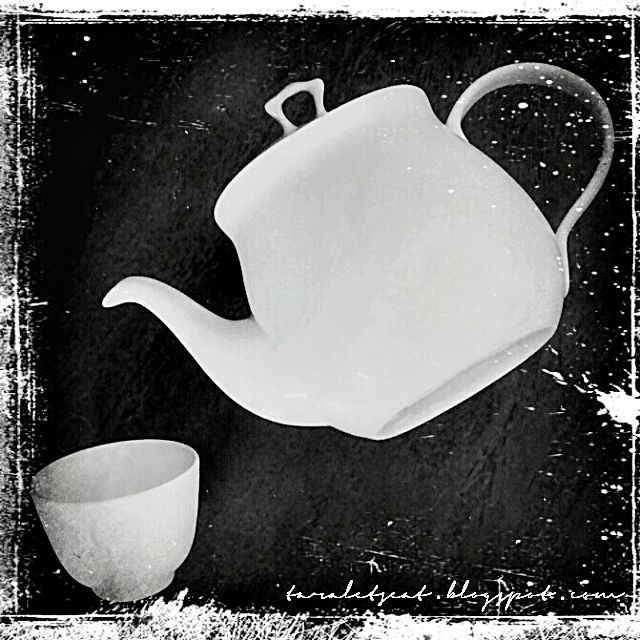 Nilagang Baka
The brother of sister's godmother has a house in Tagaytay and they started buying beef from Batangas and sell it here (per order basis only). He offered it to mom and we bought a kilo because it was very affordable compared to the ones sold at the nearby market. Prior to this, I didn't know why people are raving about Batangas beef, and now I know... it was really flavorful!
Burger Steak
Another day out with mom, another chance to eat at Jollibee. I usually go for spaghetti + chickenjoy meal, but for today, I ordered the Burger Steak because I just miss eating this food.
Tea Time
This was an image I came up with for FatMumSlim's Photo a Day with "Curve" as a prompt.
Muffins = Failed
They say you learn from your mistakes, and I learned a lot from this. The day before, I mixed up the box of Maya Butter Cake Mix and tried if I can cook the batter a la pancakes. It didn't turn out good, so I just lined the muffin pan with aluminum foil and poured the batter. This was my first time to use the oven toaster to bake muffins as I always used the steamer. With the steamer, I can fill up the cups and it wouldn't expand that much, but when I filled the cups and bake it in the oven toaster, I was so surprised that it overflowed. Good thing though, one of the cups was filled halfway and it looked okay. This won't make me a millionaire, but the lessons I learned will always be cherished.
Chef Robby Goco at The Maya Kitchen
I already blogged about this event, no need to repeat it. :)
Next Baking Project
Carrot muffins with sour cream frosting. I hope it turns out good.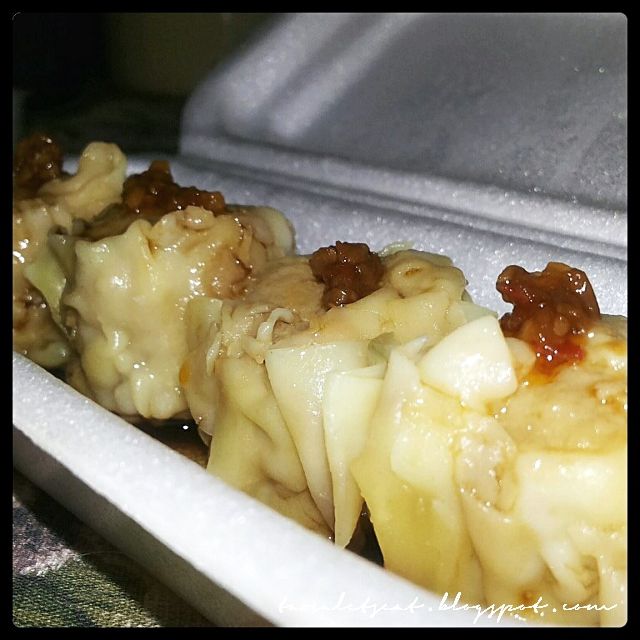 Moonleaf Maginhawa
When I attended the 1st year anniversary of Moonleaf Makati, I was given a GC worth 500 pesos. It will expire on 30 September, and since we were already at East Avenue, we decided to make a short trip to Moonleaf Maginhawa and with the help of the helpful barista, I was able to order six cups of drinks. Us girls sipped a cup each at the store and took home the other half. The full story behind this food trip will be shared this Wednesday.
Tahong
Aunt Mary just arrived from Bolinao and gave us some fresh seafood, mussels included. One thing's for sure - mom enjoyed a very hearty dinner (I am not a big fan of it, though).
Chowking Siomai
Mom and I did a lot of errands today, and before going home, she passed by Chowking to buy Siomai as part of our dinner and Siopao for our breakfast the next day. Chowking's Siomai is not the best there is, but it is one of my guilty pleasures.
This week, I hope to try a recipe and prepare interesting dishes at home.

Hello, Monday!