As much as I love collecting YUMMY Magazines, I also love their cookbooks. Yes, I know the recipes in the cookbooks were the same as the recipes they printed in several magazines, but if you're like me who would always try recipes, it is sometimes a little overwhelming to browse through pages of magazine just to find a recipe or two to try. The goodness of these YUMMY Cookbooks is that each cookbook is devoted to one topic, therefore looking for recipes are much easier.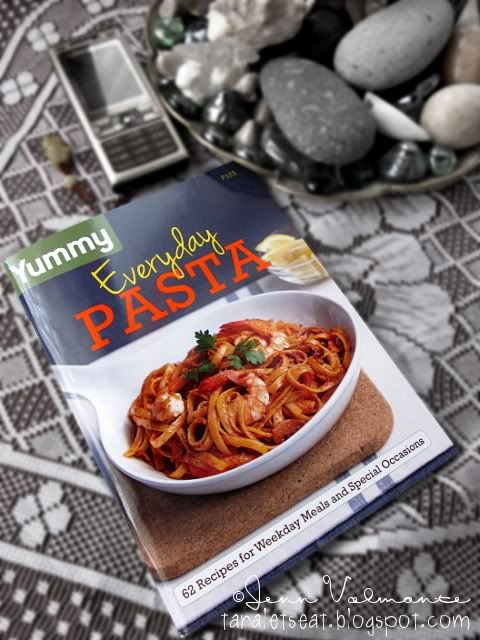 The newest YUMMY Cookbook is "Everyday Pasta," which features 62 recipes that you can cook for yourself, family, friends, and maybe use it to start your food business. I am a big pasta lover, and this cookbook seemed to be something I will consult during days that I can't think of anything to cook... or during days that I want to serve people dear to me something special.
The cookbook's divided into categories (for easy browsing) -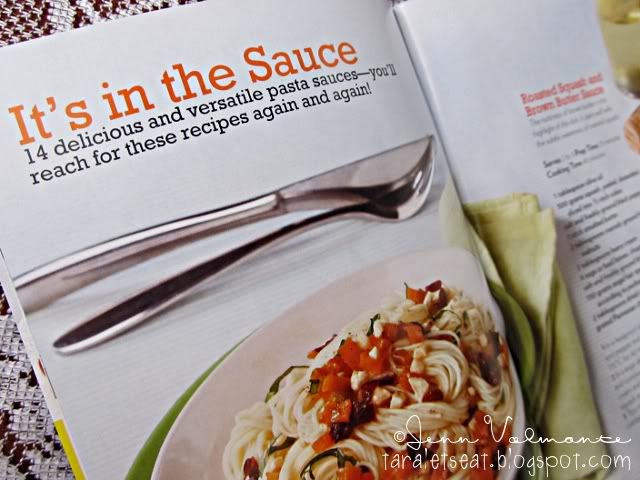 It's in the Sauce
.
14 recipes for this section... and the top 5 recipes I want to try are:
> Malunggay Pesto
> Creamy Salmon and Dill Sauce
> Tinapa Cream Sauce
> Smoky Bacon Tomato Sauce
> Roasted Tomato and Garlic Sauce
Flavorful and Festive
.
For this section, there are 13 recipes... my top 5 recipes -
> Luxe Mac and Cheese with Truffle Oil
> Angel Hair Pasta with Sun-dried Tomato
> Creamy Prawn Canneloni
> Pasta Nero di Seppia (Pasta in Squid Ink Sauce)
> Gnocchi con Spinach Au Gratin
The Light Stuff
.
My top 5 choices out of the 11 recipes?
> Greek Chicken Pasta Salad
> Linguine with Shrimp and Stir-Fried Vegetables
> Breaded Spanish Sardines with Garlic-Basil Pasta
> Chicken-Mushroom Pasta Salad
> Seafood Pasta
Weekday Wonders
.
The biggest section with 15 recipes, and the 5 recipes I would try first (before cooking the other recipes) are -
> Linguine with Longganiza Sauce
> Stovetop Mac and Three Cheese
> Caesar Salad Pasta
> Spicy Spinach and Garlic Pasta
> Baked Ziti with Italian Sausage and Peppers
For the Kids
.
Of course, kids do matter, too... and there are 9 recipes for them - but of course you can also serve them the pasta from the other sections, it's just that recipes from this section more for the kids. My top three choices are -
> Italian Meatballs in Marinara Sauce
> Tuna and Potato Chip Mac 'n Cheese
> Sweet-Style Spaghetti
Each recipe has its own image, for you to know how the end product would look like. These images aren't just there to inspire you to cook - these images would also inspire you how to serve your pasta dishes, giving your family or friends or whomever it is your feeding (even just yourself) that feeling that you're eating at a gourmet restaurant, when in reality, you're just eating at the comforts of your own home.
Whether you're an avid collector of the YUMMY Magazine or just someone who loves pasta, this cookbook will surely please you. As for me, I am already ready to cook the very first recipe from the cookbook I want to try - Spicy Spinach and Garlic Pasta - simply because the Aglio Olio is my current pasta addiction and adding spinach not only seemed interesting, it's healthier, too.
By the way, as of this writing, there are now 12 YUMMY Cookbooks available:
Everyday Pasta
Party!
Filipino Favorites
Baon
100 Everyday Recipes
Give, Bake, Sell!
Menu for a Month
Good to Go
Quick & Good
Weekend Cooking
So-Easy Sweets
Meals in Minutes.
I own three cookbooks - 100 Everyday Recipes, Baon, and Everyday Pasta. I am looking forward in buying Quick & Good and Filipino Favorites... but of course, in time I do hope to complete all the collection.

The YUMMY Everyday Pasta cookbook is now available at newsstands, bookstores, and supermarkets nationwide for only p125. To get more YUMMY news, you can check their website at
www.yummy.ph
or follow them at Twitter -
twitter.com/yummyph
or like their Facebook page -
facebook.com/yummymagazine
.