RounDish Restaurant
2nd floor - Urban Inn
La Paz, Iloilo City
21 November 2010
Visiting a new place makes me happy. When K asked me one destination I would like to visit for this holiday, the only place in my mind was Iloilo, and I was so happy he considered it and made it part of our trip. It would be my first time there and I was extremely happy.
When my camera met an accident, I didn't cry just yet for I could still use it. However, during our flight to Iloilo, an article on Smile Magazine (Cebu Pacific's in flight magazine) caught my attention and made me take a picture of it just so I won't forget. With the magazine on my lap and my camera tilting downwards, it let go of a lot of sand - which by that time had dried up. For a minute it made me optimistic - that my camera would be much better because I was able to shake off sand, but sadly, the remaining sand caused my camera lens to get stuck and that was it: my camera just died.
It crushed me. There I was, about to set foot on a new location with a busted camera.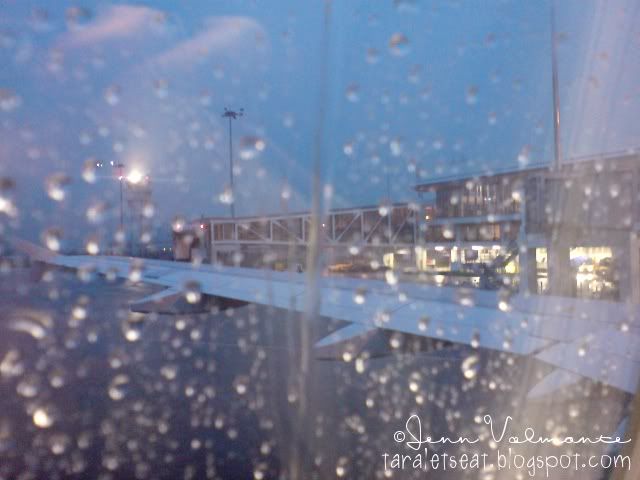 And as if the heavens sympathized with me, it was raining when we landed on Iloilo. I heard it has been raining since afternoon and getting a ride was difficult because parts of the area were flooded, causing major traffic jam. It took a while before K and I secured a taxi, but traveling to our destination made him upset and worried - what if the taxi ran out of gas while we were stuck in traffic... what if the driver decided he wouldn't take us to our destination... what if the inn canceled our booking and we had to find another place to stay at. For the first time during this holiday, I started feeling gloomy and hopeless.
We made it safe to Urban Inn in La Paz, Iloilo. Of all the affordable inns / hotels we listed, this place seemed to be the best choice and we were thankful that the staff of the inn were so friendly and accommodating. It was past 7pm when we arrived, and with weary hearts and tired spirits, we decided to settle for a moment, collect thoughts and think of what to do next.
We do have a lot of questions, but the one at the top of our list was, "Where to eat dinner?" I clearly didn't think about that while planning for this, and asking an online buddy based in Iloilo, she couldn't name a restaurant in La Paz and suggested we go to SM or to Smallville. K and I didn't have the energy to travel anymore, so we decided we would just walk around and see what we can eat to get through the night.
We surely were so focused on a different thing that we didn't notice there was actually a restaurant a few steps away from our room (we were at the third floor). It was a quick answered prayer, and we didn't think for one moment - we quickly got in and checked the menu.
RounDish Restaurant is a Korean Restaurant, but some items on their menu are somewhat Filipino, with a Korean twist. We had:
Chicken Katsu
.
Fried boneless chicken with Teriyaki Sauce
. K's choice. I am sensing a little pattern on his choice of food - if he won't go for curry, he'd go for something like this. Anyway, we were a bit surprised when we were served this, the menu said "with Teriyaki Sauce," but it was served with coleslaw. We asked the staff about it and they quickly gave us a little bowl of teriyaki sauce apologizing that they just forgot to serve it. Okay.
It tasted like any other lightly breaded chicken meat, but I have to say the mayonnaise they served us tasted better than the one we use at home.
Korean Pork Ribs
.
Tender pork ribs with sweet soy sauce
. They have two sizes for this dish, and I obviously took the smaller serving. This came with a cup of rice (yey), and I loved that the meat was really tender, yet it still held its shape. The sauce was a bit on the sweet side, but it's the kind of sweetness that wasn't really overpowering. Am not sure if I was being hungry, emotional, tired or maybe all... but I was able to eat all of it. Delish!
Sweet Beef Bulgogi
. It was around 8:30pm when we had this dinner, so we were the only customers that time. Halfway through our dinner, two Korean men entered and one of them came to our table and asked us about our meal. We mentioned that this was our first meal in Iloilo and after that short exchange of messages, we were surprised when we were served this. The Korean man we were talking to was actually the owner of the restaurant, and he was just happy that our very first dining experience in Iloilo was at his restaurant. This was his welcome gift to us, wishing us to have a memorable stay in Iloilo. How sweet was that?
Anyway, this dish had a mix of sweetness and spice. It was seasoned well, and the beef had a great taste to it. Sadly, we weren't able to finish it because both of us were already stuffed.
All of these pictures were taken using my cell phone's camera. For a cell phone camera, I was thankful my phone allowed me to take okay pictures. We will be staying in Iloilo for four days (including this one). With three more days and lots of places listed on our itinerary, I was then faced with a big dilemma. My camera just died, my cell phone's running on its own memory. I decided to keep image sizes to be VGA (640x480) so that it won't eat a lot of space, but before calling it a night, I sent my siblings a message - for them to send me my cellphone's USB cord and if possible, sending me sister's cell phone's memory card just so I can still capture images of Iloilo even with my cell phone's camera. Thank goodness I brought my netbook and that the inn had a WiFi connection. My holiday's still not busted after all.