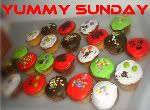 Growing up, I never really liked eating chocolate candies. Maybe it's because we cannot afford it before, or possibly it's because our late father used to hoard all chocolate candies so only he can eat it. =) Actually, while both are indeed true, I am happy not be as addicted as my dad was to chocolates, because if I got that trait from him, we would probably fight over chocolates while he was alive.
Anyway, these chocolates were given to my sister by her friend and kumare who resides in Macau. My sister helped her with her school papers, so when her friend's husband came back to the Philippines, they gave sis a bag of Cadbury chocolates. This was an old picture, I shot this one for our family blog and for my sister's blog in Multiply (she's not really a blogger, but at times she updates her Multiply site).
*** Jenn ***
ps - I am still wondering why the PR of this blog has dropped from 2 to "?". I hope it'll change.