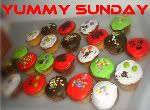 This week's theme is about "steamed" foods, and at first, I was hoping to get pictures of the siopao my friend Arnel cooked last Sunday, but the food wasn't really that good in the sense that he seemed to have put too much yeast on the dough, he left it to ferment for two hours, and he didn't have one key ingredient (I now forgot what it was). The result was a little soury siopao that seemed to have beer or alcohol in it.
Anyway, while brother and I were at the market one day last week, we saw this meat shop that sells siomai (unsteamed yet) for only 20 pesos per 1/4 kilo, so we gave it a shot. I steamed this using one of our pots, good thing the rice cooker came with a rack for steaming.
I just prepared the dipping sauce by toasting some chopped garlic and mixed it with soy sauce and lemon juice. The siomai tasted good, actually. And 10 pieces of siomai for 20 pesos meant I only paid 2 pesos each. An ambulant vendor selling siomai costed 2.50 each and it was small and tasted more floury than meaty. Now I know that whenever I will crave for some siomai, I will just have to go to that meat shop and buy.
Still... I am hoping I could learn how to do it. I actually don't know how to bind the filling together.
*** Jenn ***