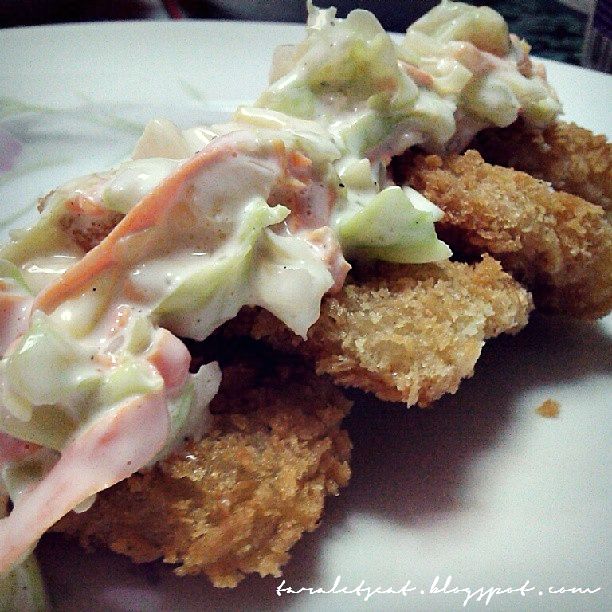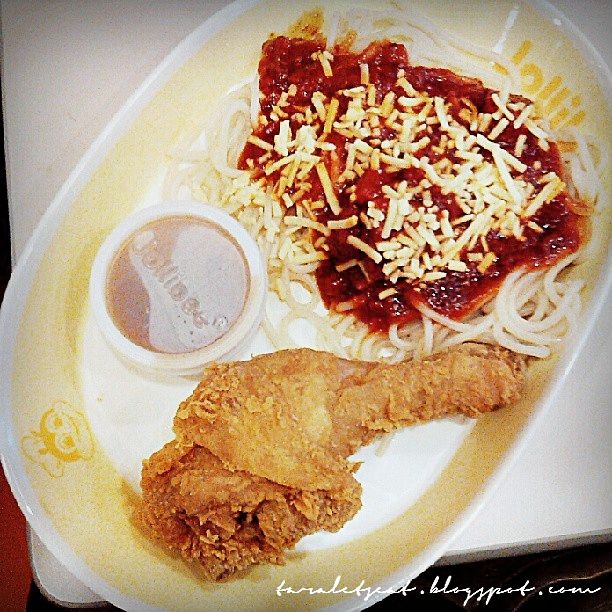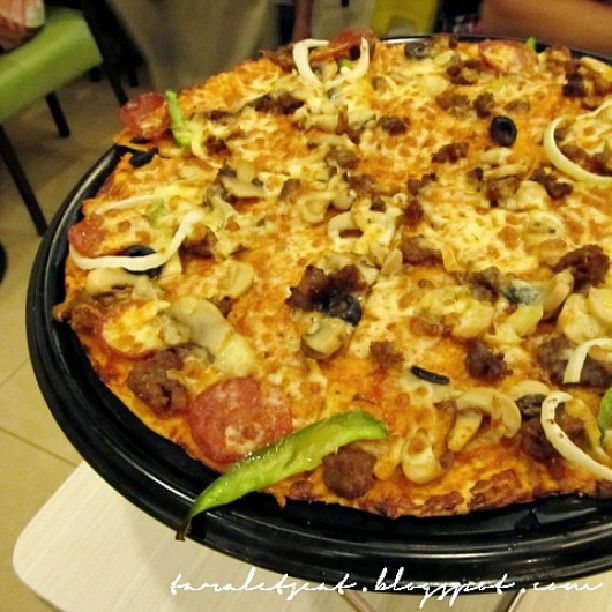 Fish and Coleslaw
I love breaded cream dory fish, but we didn't have any French Fries, so I just asked sister to prepare coleslaw to go with the fish. Not totally healthy, but at least there were vegetables. :)
Jolly Spaghetti and Chickenjoy Meal
Being stuck at home for three days because of the rains, having a little break from monitoring the rainfall and problems it might cause, Mom, sis, and I went to watch "Extra (The Bit Player)" at the cinema and for our late lunch/snacks, we decided to just eat at Jollibee. These aren't my ultimate favorites at Jollibee, but whenever we eat there, I always choose this meal.
Greenwich Pizza Thins
I met with Jonel of NomNomClub to claim my prize and aside from handing me my new phone, he also treated me to the newest pizza offering at Greenwich - the Pizza Thins. Personally, I am not a fan of thin crust pizza, but comparing this to the old Greenwich Pizza, this dough was more flavorful.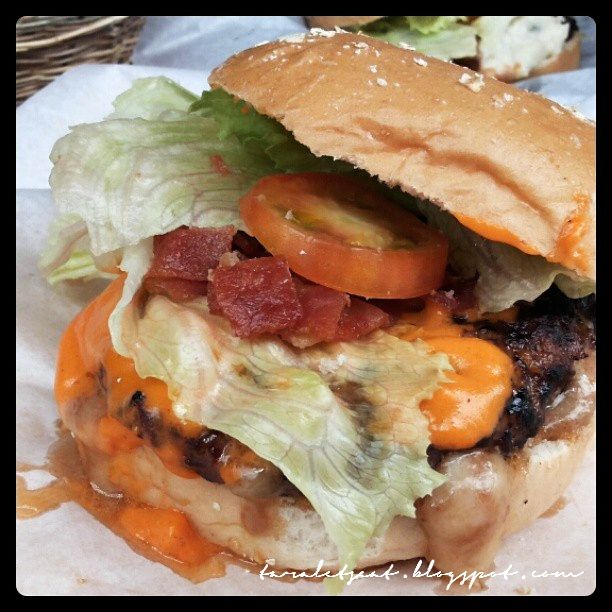 Kebabers Fish Meal
I already posted the food trip a few days ago, but this picture... though not a little bit out of focus, was the very first image I took using the camera of my new phone. It took a little while adjusting to it, but as of this writing, I can say I already am used to its settings.
Breakfast at the Alta Veranda
I was supposed to welcome the morning in Boracay with mom, but she decided to sleep with sister at a different resort, so it was just I who ate breakfast at the Alta Vista de Boracay. My accommodation included buffet breakfast, and this was my choice of meal... though I also ate some fruits and sipped a bowl of veggie soup.
Burgerella Burger
After taking a dip into the famous White Beach of Boracay, sister said she wanted to eat burgers for lunch. The very first burger joint we saw was the Bite Club Grilled Burgers, and I went for the Burgerella with Creamy Cheese Sauce and Smoked Bacon.
Golden Cowrie
Mom wanted to eat seafood - either shrimps or crabs. For dinner, we walked along the shores of Boracay to look for a place to eat at and this place caught my mom's attention. Dinner was surprisingly great!
Pasta Bowls
For our last meal in Boracay, we ate at Lemon iCafe, and sister and I used our Enjoy Philippines card plus the voucher for this establishment, which allowed us to buy two main course for the price of one. After careful planning, my sister went to choose two high priced dishes while I chose two pasta dishes.
Feeling Ilonggo
My very late lunch/snacks for that day - Lucky Me La Paz Batchoy instant noodles and a few pieces of Biscocho, which we bought at the Kalibo Airport while waiting for our flight back to Manila.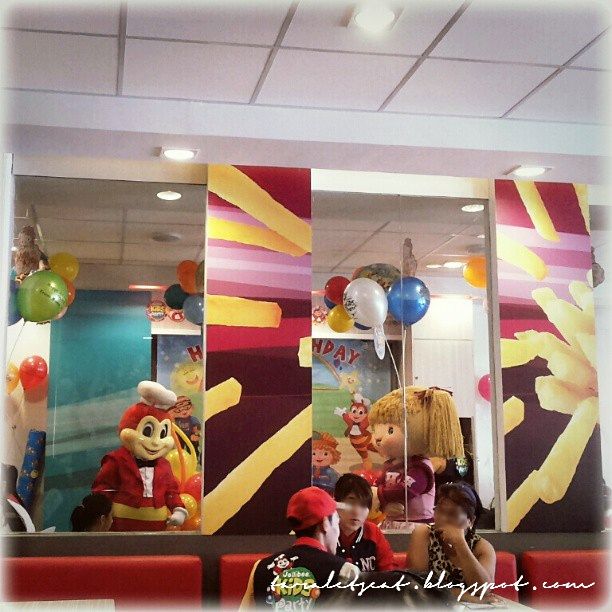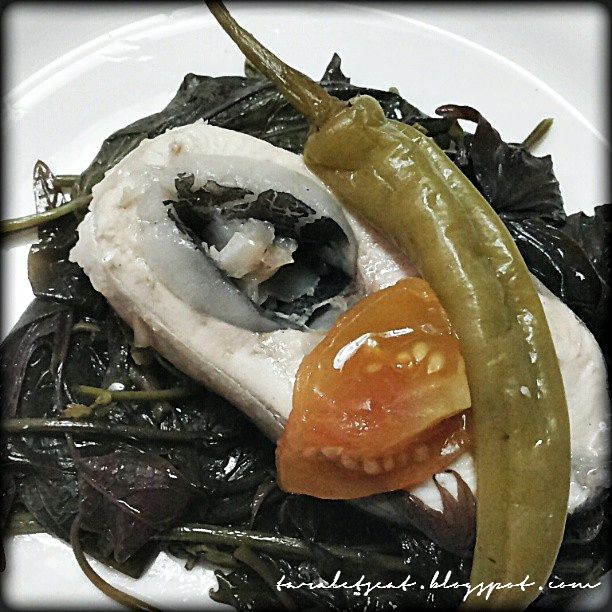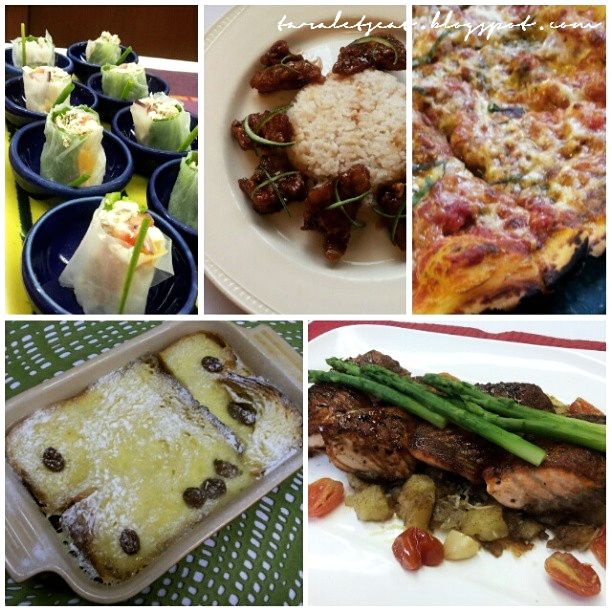 Hetty!
Another Jollibee food trip for mom and I, and while eating my meal, I got to see Hetty the mascot. She is my favorite mascot growing up, but when Jollibee introduced Twirlie, I don't get to see Hetty that much anymore so this moment was a memorable one for me, as if I was zapped back in time.
Bangus
I always let mom buy bangus because she seems to know how to get the fish with fatty bellies. I love bangus belly, so when I cut the fish before cooking it, I got so ecstatic. Belly heaven!
No Borders Cuisine Demo
Last Saturday, sister and I attended the No Borders Cuisine demo at The Maya Kitchen where we got to learn and taste five dishes. The full story about this class will be shared tomorrow or on Wednesday.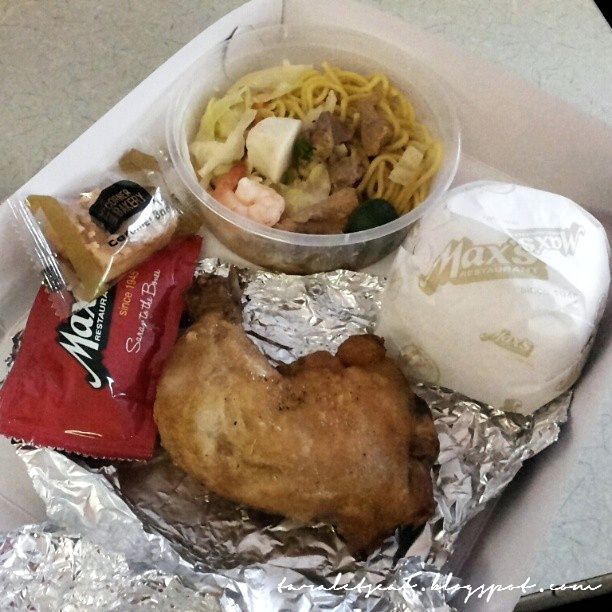 Coffee Barako Cake
After the cooking demo, sister and I checked different malls to look for shoes to wear for an event, and before parting ways, we ate snacks at Tsoko.Nut Batirol where I had a slice of their Barako Coffee Cake.
Max's Chicken Meal
My Saturday didn't end after my snacks with sister; I still traveled to SM Mall of Asia to attend the Grand Inaanak Day hosted by Max's Chicken. For dinner, we were given this meal, which I ate with four blogger friends while exchanging commentaries about many things.
"Together"
I attempted another shot at FMS Photo a Day, and for the first day of September, the prompt is "Together," and this was my share. For me... pasta, garlic bread, and coffee just go well together.
Quite a long post for this week because I squeezed in two weeks of food posts on my Instagram page. If you're interested to know... the photo collage were created using the InstaPic Frames app, the borders and some filters were added using Cymera (my super favorite photo app), and to be able to post a rectangle image on Instagram, I used the InstaSize app.