It's Friday the 13th today, but today is a lucky or should I say a blessed day for us because our beloved mother is celebrating her 64th birthday. Woot woot!!!
When September came, sister and I started thinking of ideas how to celebrate mom's birthday. At first, we wanted to throw her a princessy-children's party complete with tiaras and balloons, but last Monday mom told us that she will be hosting a prayer meeting last night (Thursday) that made sister and I scrap the tiaras and balloons and just go with the food instead.
This was a surprise, so we couldn't plan of cooking anything. Instead, we opted to buy the food we planned to serve.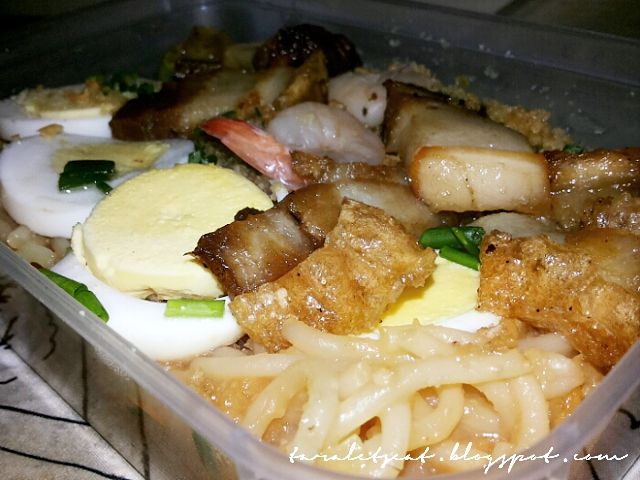 Pansit Luglug - Max's Restaurant
Children's party often serves spaghetti, but because mom will be serving spaghetti at the prayer meeting, we decided to go for this. It's just the three of us, so taking the other food into consideration and the fact that there's just the three of us, I just bought the a la carte serving.
It was past 6pm last night when we arrived at the SM Fairview branch of Max's Restaurant, and I was surprised when the menu indicated that this food is only available from 2 - 6pm. I made an "Awww..." expression and the cashier quickly phoned in the kitchen to ask if they could accommodate my order. The cashier flashed a sweet smile to say I can still order the Pansit Luglug.
I didn't even tell them it's for my mom's birthday, but this very sweet gesture truly made our celebration complete. Thank you!
Lumpiang Shanghai - Max's Restaurant
Growing up, Lumpiang Shanghai is always part of the birthday party table, and since we already purchased the pansit there, we didn't look for any other restaurant.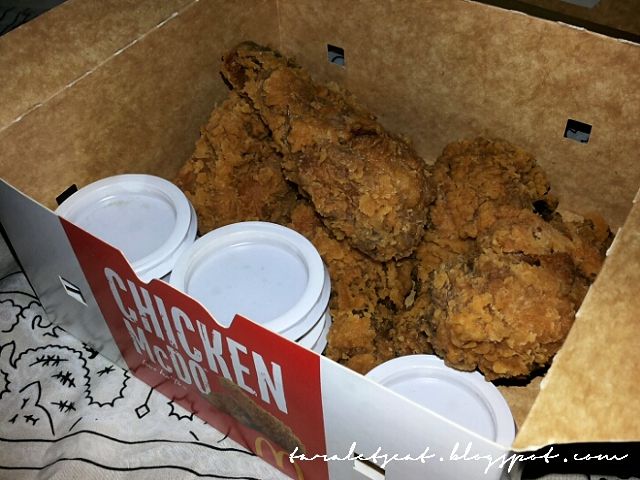 Fried Chicken - McDonald's
At first we were thinking of trying out the fried chicken at Angel's Pizza, but we didn't have the luxury of time (I had to leave mom last night while she was preparing for the prayer meeting and we had to be home by 8pm so I could cook the spaghetti for her guests), so while waiting for our order at Max's Restaurant, we went to buy the cake and made a side trip to McDonald's to buy the chicken. Personally, I love KFC Hot and Crispy, but us three girls love Chicken McDo, so choosing where to buy the chicken wasn't difficult at all.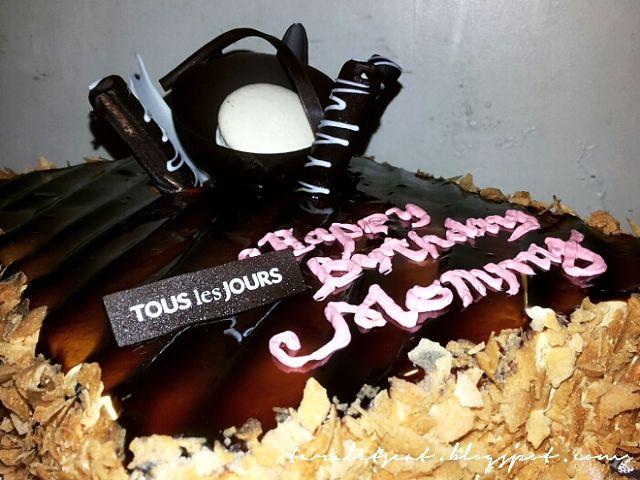 Mocha Crunch Cake - Tous les Jours
At first I suggested we go ahead and buy the cake at Max's, too, but honestly, we have already tasted their big cakes (the rolls we haven't yet... but, we figured mom's birthday is more special than a cake roll, with all due respect to ever humble cake roll), and sister's not so keen on buying a cake at either Red Ribbon or Goldilocks, so we walked all the way through Tous les Jours (at the other end of the mall) to buy the cake.
At first we wanted to buy cupcakes, but inquiring at Felicity, we found out they require at least three weeks prior to the event. We love cupcakes, but we don't know much about places where to order customized cupcakes (Felicity is the only one we know of), so we went to the next best thing - pre-made cakes. We wanted to buy the strawberry cake, but the Tous les Jours branch in SM Fairview didn't have a wide selection, so we just chose among the available cakes. I really wanted the Chocolate Powder Cake, but mom's tummy usually reacts bad to chocolate cakes and ice cream, so in the end we chose the mocha cake.
This was the first time we bought something at Tous les Jours, and we just loved their service! Their staff were all friendly - they even wrote our message on the cake - and I loved how they packaged the cake. The box was very sturdy and it even came with free plastic cake knife and a pack of candles (5 pieces). Best of all, the cake tasted so so so good! True to what the staff said, it wasn't overly sweet and the glaze at the top as well as the crushed barquillos around the cake provided a different twist to the usual mocha cake. We are definitely buying there again!
- * - * - * -
In a way, we were thankful the prayer meeting took place last night (they usually have prayer meetings every Wednesday), because mom was busy chit-chatting with her friends that she didn't notice or she didn't pry into to the paper bags anymore. The meeting ended half past 11pm, so the timing was just right for us to pull our surprise as soon as midnight came. Mom wasn't the emotional type of person, but we knew she was surprised. When we had our picture together, there was a little sadness because for sure she was missing our brother who is now in Cagayan de Oro, but she lightened up when I handed her the card brother and her fiancée sent earlier this week.
Happy, happy birthday momskie! We may not be the best children, but do know your imperfect children loves you to the moon and back. :)