Happy Monday, fellow foodies!
Among the international cuisines available to devour on, Thai is definitely at my top 5 list. The first time I tasted Thai food, I fell in love with it right away, and when I found out the Maya Kitchen is going to have a featured class on Thai cuisine, I was very happy with it.
Here's the press release provided by the Maya Kitchen: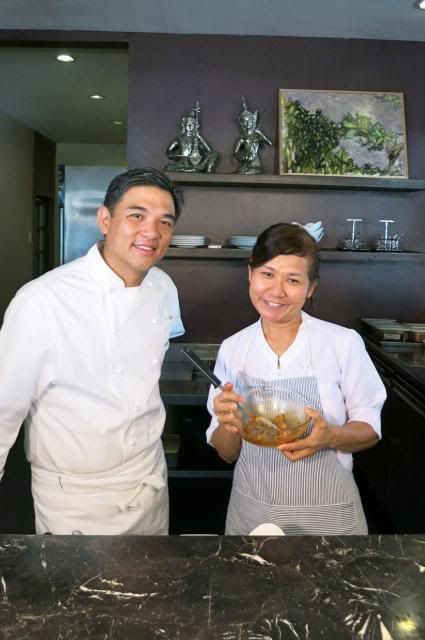 Renowned chef J. Gamboa of Cirkulo Restaurant puts on a different hat as he takes on Thai cuisine as guest chef of The Maya Kitchen on May 25, Saturday, 10am-1pm.
Chef J. Gamboa will be joined by Chef Malichat of Azuthai Restaurant. Cirkulo and Azuthai are parts of a chain of restaurants that includes Milky Way at Rockwell Power Plant and V-Mall Greenhills; Azuthai, Tsukiji and Milky Way Café all at the Milky Way Building, 900 Arnaiz Avenue corner Paseo de Roxas, Makati.
The two chefs will demonstrate popular Thai dishes like Tom Yum Goong (Hot and Sour Prawn Soup with Lemongrass, Kaffir Lime Leaves and Fresh Coriander); Goong Pad Prik Kratiem (Chili Garlic Prawns); Geng Kew Wan Gai (Green Chicken Curry); Pla Naeng Ma Naw (Steamed Apahap with Lime, Fish Sauce Garlic, Coriander and Chili) and Khao Niao Ma Muang (Mango with Sticky Rice).
Chef J. Gamboa belongs to a family of restaurateurs led by Malu A. Gamboa who runs the restaurant chain. He is a graduate of the University of Massachusetts at Amherst and the Culinary Institute of America, Hyde Park, New York. He is Executive Chef of his family-owned restaurants Cirkulo, MilkyWay, Tsukiji and Azuthai.
Chef Malichat is a native of Nakhon Sawan, Thailand and has worked in 5 star hotels in Germany, China, Pakistan, Ukraine and in Thailand for over 20 years.
I may not be all that familiar with Chef J. Gamboa, but I do remember he once became a chef for a cooking show with Maricel Laxa and that he created an ice cream as well. Anyway, among the listed dishes he and Chef Malichat will prepare this Saturday, I am looking forward to the Chili Garlic Prawns because I loooove prawns, and of course the Mango Sticky Rice. I really want to prepare that at home, but I really need to know the exact way it is done.
For more information on other course offerings, log on to
www.themayakitchen.com
or e-mailcontactus@themayakitchen.com or visit The Maya Kitchen Culinary Center every Tuesday to Saturday at 8F Liberty Building, 835 A. Arnaiz Avenue (Pasay Road), Makati City or call 8921185 / 892-5011 local 108 / Mobile No. +63947 835 2290.
See you this Saturday!