If you recall not too long ago, I did share that I wanted to try this new McCormick product, and about a week after that, I had the four variants at home ready for me to use. I have always been a fan of McCormick; their Buffalo Wings mix was something my brother and I go for, so even if we haven't tried this, we already knew we would like it.
This fried chicken mix is easy to use - just empty out the packet #1 into a bowl and add 1/4 cup of water and mix. Don't add any more than 1/4 cup of water because it would be a little runny, but if you would like a thick batter, then add a little less than 1/4 cup of water.
A day before I tried using this, I learned how to properly do the "Double Deep Fry" technique - and since this is Korean Fried Chicken, might as well try it for this time, right?
Dip chicken in batter and fry for about 5 minutes until it is light brown in color, just like the picture above. Fried chicken has always been a tricky thing for me, so I just set the fire on low and covered the pot while cooking it - so the steam trapped inside will also help cook the chicken pieces. After 5 minutes, just set aside the chicken to rest.
Re-fry the chicken pieces until it is golden brown. Crispy fried chicken, I tell you!
The batter can be used for 1/2 kilo of chicken. If you want it to be crispier, I suggest you dust the chicken with a mix of cornstarch and rice flour before dipping it into the batter.
It is really best that you do two batches of chicken, so you can fry the second batch while the first batch of chicken is resting - no need to turn off the fire and re-heat the oil once the chicken has rested.
Now that the chicken is cooked, on to Step Number 2 - coating the chicken with the sauce. The pack said, "Place the chicken in a container, pour the sauce and shake it to distribute the sauce," but since this is a new product and I am a little apprehensive that the family might not like it, I just served the sauce alongside the chicken.
The family has already tried three of the four flavors:
Soy Garlic
. Honestly, I loved this more than BonChon Chicken. It's not overly sweet, and I do hope McCormick can come up with a bigger pack for the sauce because the glaze outside of the chicken just wasn't enough. :)
Kimchi
. I admit I was a bit apprehensive about this at first because I am not a fan of kimchi, but a year ago, I got to taste Kimchi flavored popcorn and loved it, so this was the next flavor we tried. If I loved the Soy Garlic flavor, I loved this even more. It has this pucker-up taste - yes, a little tangy - but it has a kick of saltiness, too, making it an instant favorite. It just went well with the chicken!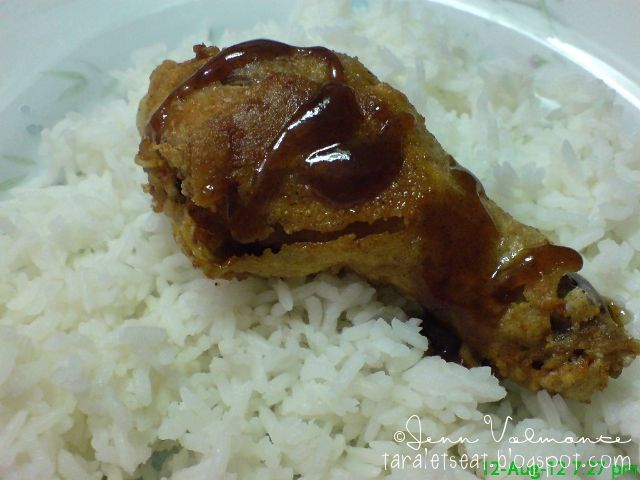 Bulgogi
. Another good flavor, but it is quite similar to the Soy Garlic one, so I wasn't so impressed with this.
The Spicy flavor I think is Soy Garlic, so we might try it next time. Of the three I tasted, it is very obvious that I loved the Kimchi one. It is also the cheapest one at just 36 pesos (Bulgogi was over 40 pesos), so I guess I'd stock up on that one.
I am loving how the food industry is evolving - back then, fried chicken simply meant marinading chicken pieces in calamansi juice mixed with soy sauce, then the breading mix came out (some with gravy mix, too), and now this. Gourmet eating at the comforts of our own home... with all the rice you can eat, too! :)