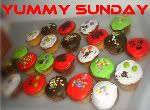 There's no spring here in the Philippines, so I would just concentrate on the summer part of the theme. =) When someone says summer, one of the foods I could think of is the mango, so I just looked for foods with mango in it. These two foods were taken from Italianni's, but on two different occasions.
The first picture featured the fruit shakes served to us at the first bloggers' event I attended in Italianni's Bonifacio High Street. Since the bloggers arrived in different times, drinks were served in different times, too, hence the uneven amounts in the glasses. I owned the watermelon shake, my sister owned the mango shake, and my blogging friend Jonel owned the kiwi shake.
The second picture - the Sicillian Chicken Salad was from Italianni's Gateway Mall. When sister and I attended the blogging event, they gave all the participants 1000 pesos of GCs, and we used it for a family lunch out. I wanted mom to taste the salad, so that's what we had. This was the best salad I have ever had, but my brother wasn't really a fan of it.
*** Jenn ***